Landscape Maintenance Program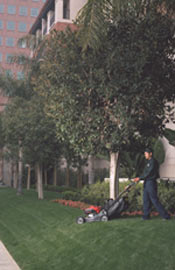 The attractiveness and value of your property is greatly enhanced by high quality landscape maintenance. A beautiful and healthy landscape enhances your business image, preserves and increases your property's value, and helps present a first - class impression.
Rancho California will protect and nurture your landscaping within your budget. We work with you to ensure that all aspects of your landscape are cared for. A standard maintenance program includes:
Regular quality care for lawns, plants, flowers, and trees
Routine maintenance of the sprinkler system
Regular fertilization to provide sufficient nutrients for plants
Constant monitoring and control of landscape pests and diseases
Tree trimming (trees up to a height of 10 feet)
Litter pick-up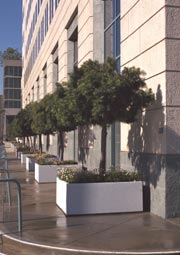 We also offer these additional services to further enhance your landscape:
Renovation of landscaping areas
Turf grass renovation
Seasonal turf grass re-seeding
Seasonal flower color programs
Tree trimming (above 10 feet)
Major irrigation system installation and repairs
With Rancho California Landscaping, Inc., as your partner, your landscape is cared for by professionals with many years experience. Each crew is supervised on-site by an English-speaking foreman experienced in all aspects of landscape maintenance and equipment. All foremen and supervisors are equipped with cellular telephones to ensure speedy response. Our staff is always available to conduct regular "walk throughs," and service requests always receive prompt attention. Our quality assurance program means that Rancho California Landscaping and our employees constantly seek to improve the quality and appearance of your landscape.