Irrigation Management Program
Most people are conscious of the importance of water conservation, but it is just as important to have an effective water management program. Inefficient watering of your landscaping can have a negative effect on your budget and on the look of your property. Too much water can be expensive, wasteful, and damaging, while insufficient watering can result in stressed, unhealthy and visually unappealing plants, flowers and trees.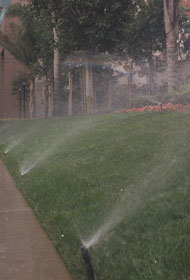 As part of Rancho California Landscaping's maintenance program, irrigation specialists will help keep your landscaping healthy and vigorous through:
Water audits
Water budgeting
System mapping
Ongoing maintenance of the irrigation system
Regular inspection of clocks and sprinklers
Our irrigation technicians have the expertise to install professional, high-quality irrigation systems. Custom irrigation maintenance vehicles, which are fully equipped with all the necessary components and tools, are on call to quickly repair and maintain an irrigation system. Rancho California supplies and maintains all major brands of irrigation equipment.
The result of an effective and efficient irrigation management program is lower water bills and a healthy, lush green landscape for your tenants and visitors to enjoy.
Other Resources:
Are you over-watering your lawn?
Lawn watering tips from the Fort Valley State University, College of Agriculture
www.ag.fvsu.edu/html/
publications/teletips/
lawn%20and%20garden/
lawns/910.htm
The Irrigation Association
The mission of the Irrigation Association is to improve the products and practices used to manage water resources and to help shape the worldwide business environment of the irrigation industry.
www.irrigation.org
The American Society of Irrigation Consultants
An organization of professionals within the irrigation industry, the mission of the society is to enhance the role of the professional irrigation consultant as the unbiased advocate of the client.
www.asic.org
Irrigation Tutorials
The web's "mother load" of free irrigation information.
www.IrrigationTutorials.com